Domestic grease cleaner. Stripper of old treatments and waxes
FLOORS & FASADES
SANIGEL
Stainremover-Stripper-Degrease
USE
interior/exterior
APLICATION
Terracota – Marble – Stone – Ceramics – Encaustic Cement Tile – Stoneware
PACKAGING
1 – 2 – 5 – 25 L
EFFECTIVENESS
1 liter clean between 5 y 8m2
STAINREMOVER-STRIPPER-DEGREASE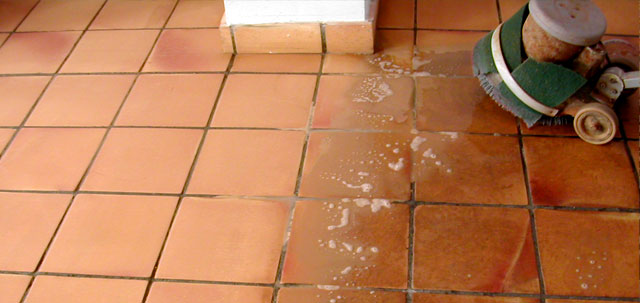 Effective alkaline cleaner to remove household stains and to decap old treatments , oils and varnishes and waxes on all types of flooring. It does not emit vapors or leave odors, since it does not carry solvents. Acts slowly, it is a long-acting cleaner , so it is very comfortable and easy to use.

Alcaline cleaner suitable for domestic stains and to strip old treatments, oils, varnishes, waxes of all types of floor. It does not give off vapours or smells, as it has no solvents. It acts slowly and it is a very versatile and easy to use. Cleaner with prolonged action, this is why it is easy and effective.

We can dilute Sanigel in water, extend it with a mop, and leave to act for few minutes until the dirt disolves. Around 5 minutes for superficial clean will be enough 30 minutes for scraping layers of wax and oils and 1 hour for stripping of varnishes and polyurethane materials. For the stripping of varnishes it can be applied pure. For the removal of oils and waxes it can be used diluting one part of Sanigel with 3 of water. Dilute it with 10 parts of water idealy to eliminate surface dirt and stubborn stains without affecting the treatment. Apply, leave to soak, scrub and rinse abundantly with water then wipe the dirt with a mop, sponge, or a vacuum cleaner for liquids before the pavement absorbs the dirt again.
PRODUCT SHEET
More information